The 'Fleur Morphic' Collection





Inspired by the Victorian love of Flora and Fauna - the words are taken from 'The Language of the Flowers' and each design is an original knotwork, which is incorporated into either a leaf or flowerhead. All Pictures copyright ©1997 Kerry Richardson.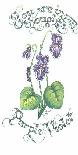 These are a few of the collection.